Add A Pop Of Color To Every Look With These Vibrant Sunglasses.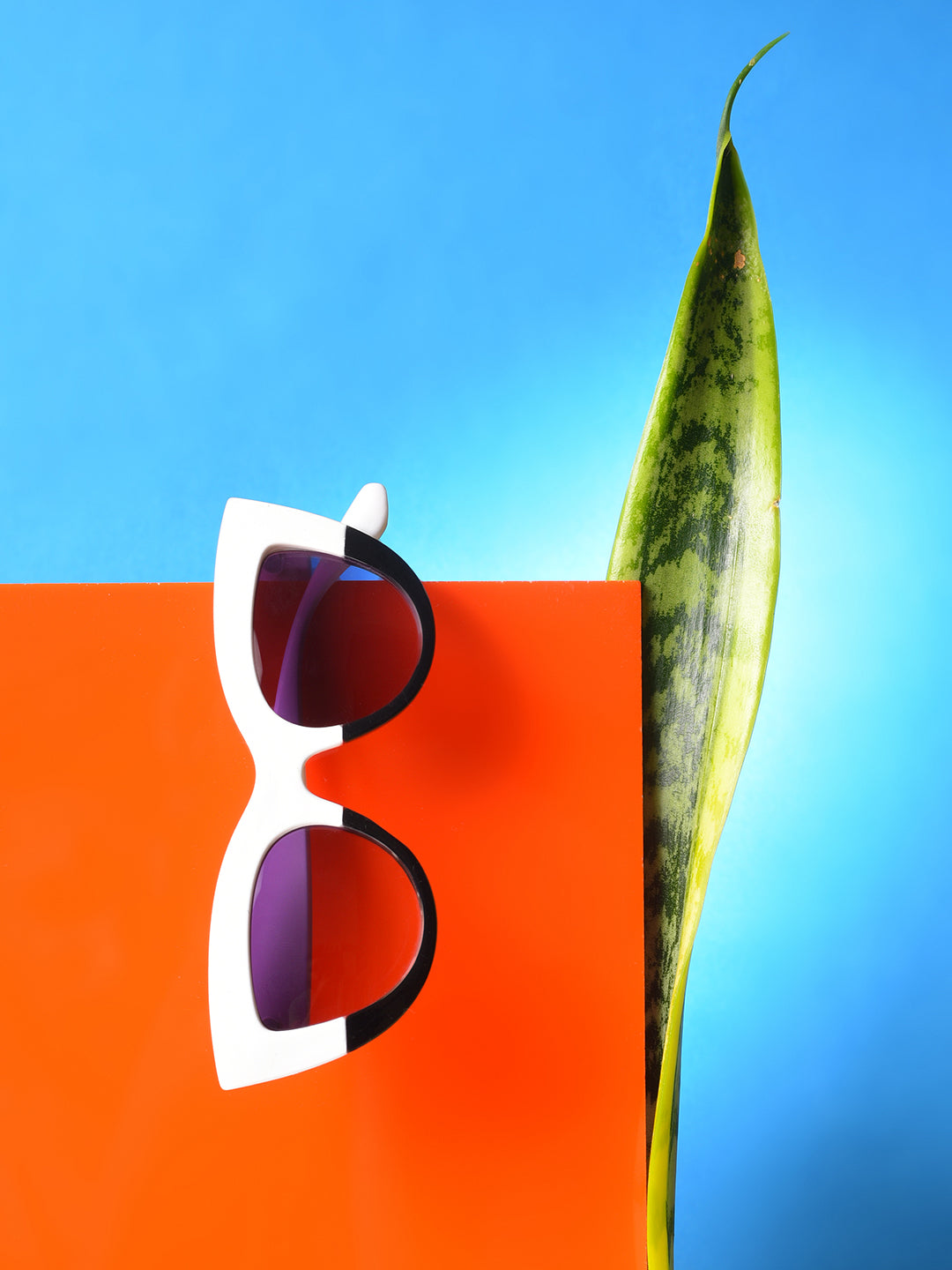 Shades or sunglasses come in myriad shapes, styles, and colors. They offer an easy way to ramp up one's look, while also offering much-needed protection to our eyes. As you may or may not know, the sun's rays contain UV radiation that is known to be harmful to our eyes. Prolonged exposure to any bright light can damage our eyesight, but sunlight is the brightest of all. And that doesn't mean that shades are needed only on summer days. It's always best to protect your eyes throughout the year, even when it's lightly cloudy outside because the UV radiation can easily pass through clouds. 
But we're not complaining, because shades are always dripping with style. You're not a serious fashionista if you don't have multiple pairs of sunglasses to enhance every look. From classic aviators and evergreen wayfarers, we have come a long way. Shades now come in a dazzling variety of shapes, so it's all the more reason to have fun with different styles and keep experimenting with new looks every day. 
Haute Sauce is a brand for the young and happening peeps who are confident and not afraid to try new things. Our wide range of sunglasses covers every style and need, whether you're looking for safe everyday options or something out of the box. 
But presently we are tripping on our new collection of colorful sunnies that can liven up any attire on the dullest of days. It's a great time to stock up on these peppy numbers because most of the country is covered with dark, grey monsoon clouds so what we need on such days is a generous dash of bright colors! Check out our favorite and hottest selling pairs:
Yellow
Can anything be more retro than a pair of yellow sunnies? We think not. Picture sporting this vibrant pair with a strappy, polka-dotted white dress, sipping Mai-Tais somewhere in Thailand. But even if a trip is nowhere on the horizon, you can certainly raise your style meter with this pair every day. 
Purple
If feminine chic is your go-to style then your wardrobe is simply incomplete without this lovely purple pair of shades from Haute Sauce. Sport these with your favorite tube top and denim skirt to set the fashion charts soaring.
Green
Green is mostly associated with nature. When we think of green, we think of earthy, soothing and subtle vibes. Well, this green pair will help change your mindset. As it turns out, green can be oodles of fun too. This funky pair of oversized shades are just great for a casual day out with your buddies. 
Coffee
This brown or coffee-colored pair of shades has multi-colored lenses to give you a rainbow-spectrum view of life on the gloomiest of days. This interesting pair brings together a subtle shade of brown in the frame with lenses that scream fun and youthfulness to give you a unique piece that would go well with everyday looks.
Orange
If you think bold fashion is your style, then grab this pair of orange sunglasses today! This oversized pair of rectangular shades have brown lenses and would go beautifully with earthy tones like beige and brown. 
Haute Pink
Have your diva moment with these oversized hexagonal shades in hot pink. The black lens goes beautifully with the dark pink frame to give a super glamorous look. Pair it with solid dresses or fitted tops with flared trousers for best results.
White
Another retro classic straight from the irreverent 70s, white shades are the ultimate glamorous accessory to sport, whether you're out at a brunch or attending a polo match. Pair this beauty with a pristine white dress or jumpsuit, or mix things up by trying these out with darker outfits to highlight the sunglasses.  
So have you decided what's your style this season? Hot tip from Haute Sauce - don't be choosy and get your hands on all these fun pairs before they are gone!