Add some bling to your wardrobe with these stylish belts from Haute Sauce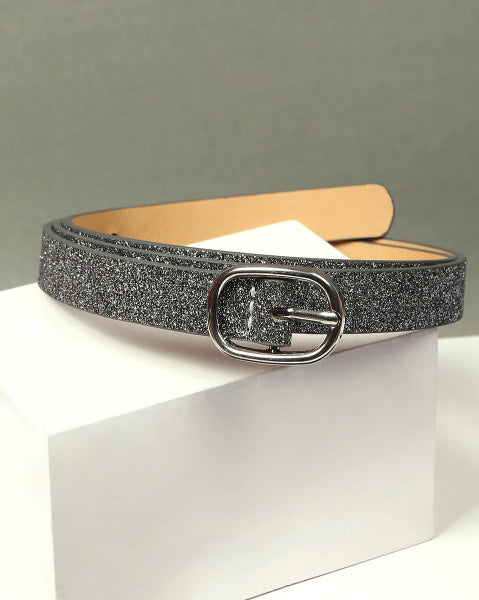 "Accessories are what makes or marks a woman." These famous words are attributed to Coco Chanel, the famous French couturier and founder of the iconic fashion house Chanel, who was a great believer in the power of accessories to elevate a dress.
Indeed, accessories can completely change the overall look. And one of the most underrated accessories for instant makeover is the humble belt. The journey of the belt as a permanent fixture in the wardrobes started around a century ago when male industrial workers began to use it with their trousers. Prior to this, belts were mostly decorative and were used on military uniforms.
But they have come a long way since then. What was first a decorative piece turned into an essential male accessory, and was ultimately adopted by the ladies when they adopted pants and jeans. Belts served a purpose - keeping the pants from slipping down! A humble but essential purpose. But slowly, keen fashionistas noticed how the belt could be turned fashionable again.
Cut to the present, when belts are a mixture of purpose and style. While their original purpose of keeping the pants in place is still intact, they are increasingly being added to dresses and skirts for giving a structured look at the waist. Besides, a gorgeous belt can turn around an average or ill-fitting dress in seconds.
Just like the functions of the belt have evolved with time, so have the shapes and styles. The utilitarian belts are still around - those simple solid leather pieces that do their job without screaming for attention. But we also have trendy, blingy, oversized or dainty belts to suit every mood and occasion.
The Haute Sauce team has picked out some of our best belts for women who want to add a dash of bling to a regular outfit.
https://www.buyhautesauce.com/products/ss22_hsbl1118?_pos=1&_psq=SS22_HSBL1118&_ss=e&_v=1.0&variant=40269648101420
Black is beautiful, timeless and elegant. This broad black belt with shiny buckles takes a classic piece and spins it around to create its glam cousin which can turn any dress into partywear.
https://www.buyhautesauce.com/products/ss22_hsbl1098?_pos=1&_psq=SS22_HSBL1098&_ss=e&_v=1.0&variant=40269641973804
Some might say that brown is the new black. The classic brown belt has been around for ages, and will never go out of style because it goes wonderfully with classic blue denims. This tan piece is a slim belt with a blingy buckle which will go excellently with jeans, trousers, skirts and dresses. Best to pair it with pumps in a matching shade.
https://www.buyhautesauce.com/products/ss22_hsbl1121?_pos=1&_sid=50ebe0e95&_ss=r
Fashion is all about bold choices and having fun with different looks. This multi-coloured glittery belt is lively, fun and extremely eye-catching. Great for a casual outing as well as a night out around town, use it to glam up your basic dresses and white denims.
https://www.buyhautesauce.com/products/ss22_hsbl1093?_pos=1&_psq=SS22_HSBL1093&_ss=e&_v=1.0&variant=40269641580588
Metals mean luxury and glamour. This metallic belt made to look like a chain is the only accessory you need to get party-ready in an instant. Wear it over your favourite dress or over denims with a cropped top. The more adventurous ladies out there can even style it as a waist-band. It's all about how creative you want to be.
https://www.buyhautesauce.com/products/ss22_hsbl1125?_pos=1&_sid=8435f4476&_ss=r
If you thought charcoal was boring, check out this glittery charcoal belt from Haute Sauce by Campus Sutra. Pair it with a classic black or white dress for maximum impact at your next bash, or over blue jeans with a crop top during the day.
Remember, the key to standing out sometimes lies in choosing the right accessories. Haute Sauce by Campus Sutra is bringing to you a wide range of eye-catching belts for all occasions. So stay tuned and start picking out your favourite pieces to add glamour and bling to everyday dressing.