A Stylish Twist For Your Apple Watch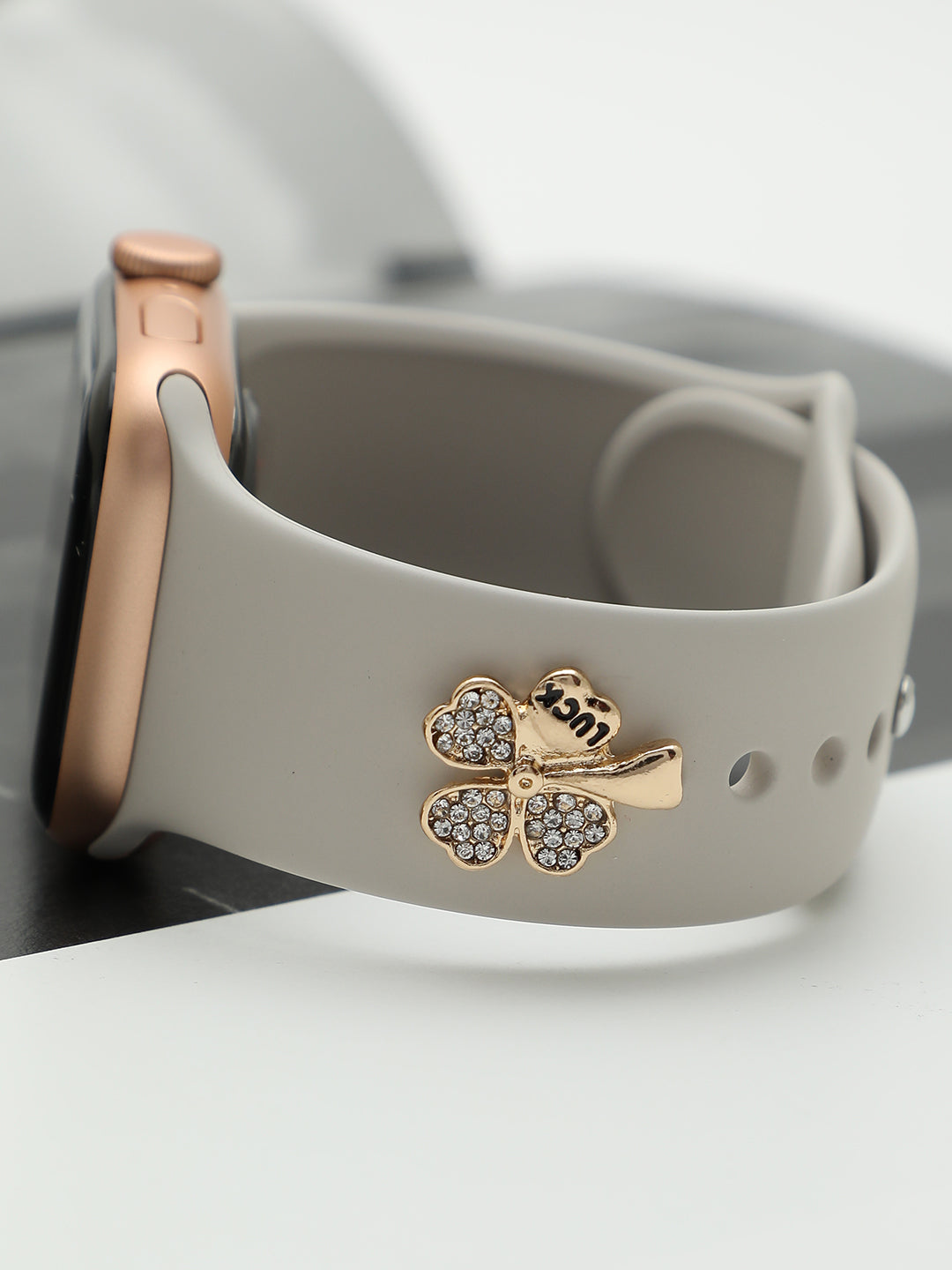 Hey there, fashionista! As the year comes to an end, it's time to update your style for the new year. 2022 saw smartwatches and fitness gadgets become the hottest accessory to own - because of their multi-utility, of course. Your Apple Watch or any other smartwatch does way more than tell the time - it counts steps, calories burned, heart rate, and in some cases even blood oxygen and sleep performance. With so much information on your wrists, it's no wonder that smartwatches are a must-have accessory now.
But hey, conforming was never your style, right? So even if you love to flaunt your Apple Watch, you can still set yourself apart from the crowd with our latest offering - gorgeous watch charms and women's Apple Watch straps!
That's right - these watch charms and Apple Watch straps by Haute Sauce will let you doll up your Apple Watch so that you get all the utility blended with your unique personal style. Scroll down to find the ones that match your style and start shopping!
How about carrying your luck with you? This dainty and sparkly charm is shaped like a flower to add a feminine touch to your women's Apple Watch strap. The gold-plated exterior and stone-studded petals give it a blingy and festive vibe so your boring-looking watch becomes a statement piece.
Why put one watch charm when you can add four? This set of five watch strap accessories tailored to fit your women's Apple Watch will let you mix and match according to the occasion. Wear all five together or keep changing every day to keep your look fresh and new. 
Love your Apple Watch but are bored of its look? Did you know that you can change your Apple Watch straps to give it a new twist every day? Haute Sauce has a wide range of Apple Watch straps (that can be used on all other smartwatches too, btw) to suit your mood and style. This maroon and beige strap has an understated and sporty look and is a good pick for everyday wear. 
Want to dazzle at your next party but don't want to let go of your Apple Watch? We get that you're hooked to your smartwatch because it's quite a rush when you achieve your step count or calorie-burning goal. So if you need to sport a glam look, then you can jazz up your smartwatch too with this stunning and dazzling silver-plated watch strap. 
If you miss your classic, gold-plated watch then worry not because you can transform your Apple Watch into one as well! This classy gold-plated strap will give your Apple Watch a timeless look that will blend in well at all formal and social occasions. 
Oriental motifs go back a long way in time and provide a fun and chic look to your Apple Watch strap. Add this yin-and-yang-inspired watch charm, which comes with three other blingy and eye-catching strap accessories, to give your Apple watch strap an eastern philosophical twist.
Holiday on your mind? Don't forget to carry along your Apple Watch to keep a check on your health parameters even as you let go and indulge a bit. But your watch doesn't have to look the same old on vacation. Give it a holiday look with this bohemian-inspired funky women's Apple Watch strap that has multicolored as well as gold-plated beads for an all-out easygoing vibe. 
Channel your inner diva with this gorgeous and unique women's Apple Watch strap from Haute Sauce. The pink and green stone strap has a mellow and understated appearance that is elegant yet striking. 
Your Apple Watch is your prized possession, and you should keep it safe from all bad vibes. So get this "evil eye" watch charm to fend off jealous onlookers or just enhance your personal style. You can wear all four accessories together or mix and match according to your mood.
As an Apple consumer, you are someone with high tastes and standards. So your personal style should reflect that ideology even as your try to keep up with the trends. This elegant emerald green women's Apple Watch strap will lend a classy touch to your smartwatch which is a great look for any occasion - whether it's work or a casual outing. 
So as you're all set to ring out the old and ring in the new, get some bling and variety for your treasured smartwatch as well. Happy shopping!
View the full collection at:
Watch charms/accessories: https://www.buyhautesauce.com/collections/watch-strap-accessories
Apple Watch straps:  https://www.buyhautesauce.com/collections/watch-strap