Keep your makeup cool and long-lasting with the Vybe mini beauty fridge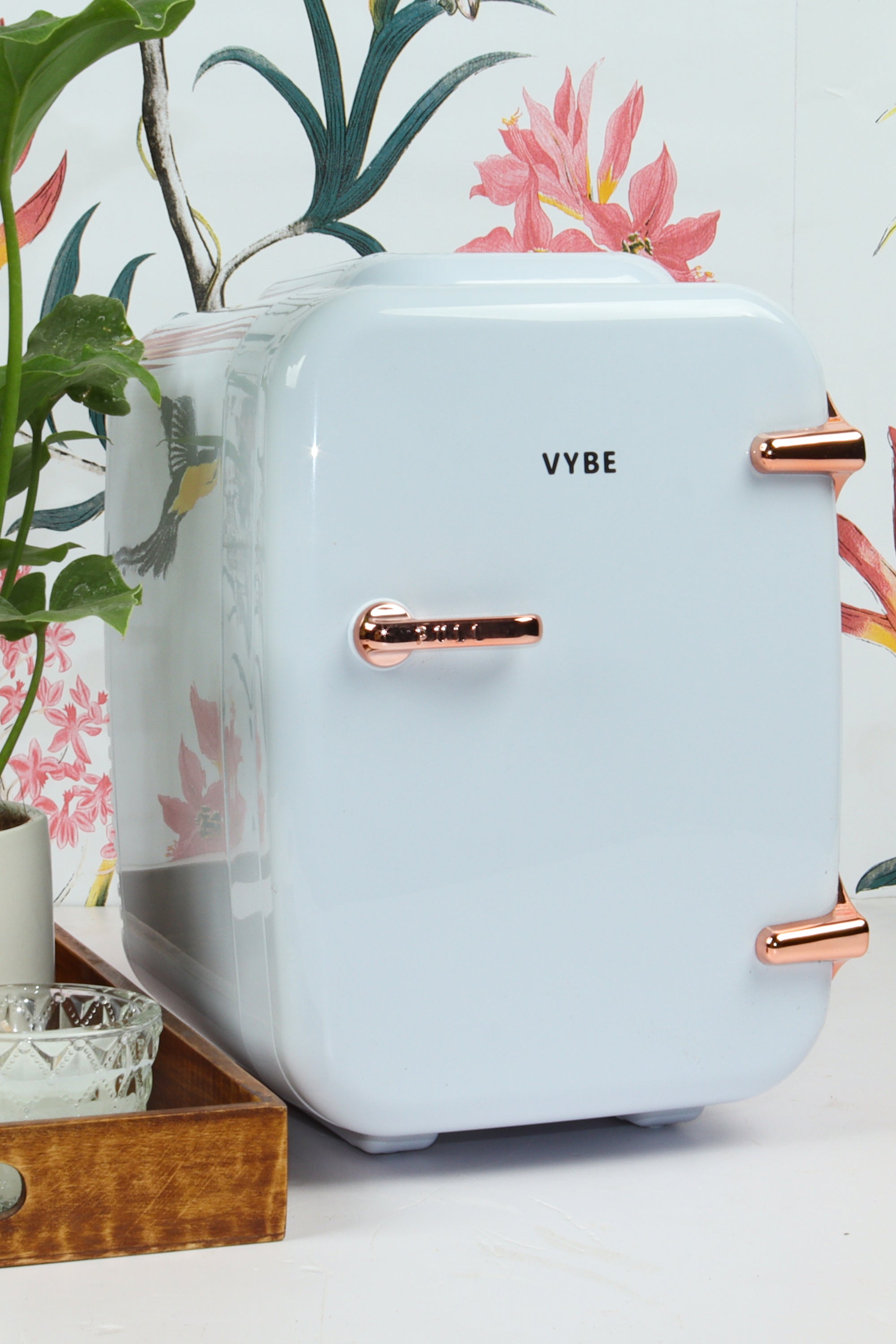 There's a new cool kid in town which will solve all your makeup woes!
If there's anything harsher than the notorious Indian summer, it's the Indian monsoon. While the cooling showers offer much-needed respite after being scorched by the summer, this season brings with it unbearable humidity which feels like a downright assault. Think endless sweating and always feeling icky around the neck. 
But we're not the only ones who suffer from the double blow of summer heat followed by monsoon humidity. You would have noticed that the shelf life of fruits, vegetables, dairy and meat products also falls dramatically when the climate is hot and/or humid. Humidity breeds microorganisms that accelerate decay of whatever they come in contact with. 
But what you may not have noticed is that non-living items also need extra care in this weather. Your prized possessions - creams, moisturizers, makeup, nail polishes, face masks etc. - all come with a shelf life of about two years. Because these products are applied directly on the skin and used regularly, it is important to keep an eye on the expiry dates.
However, extreme temperature changes can damage perfectly good products even within the expiry period. 
So how do you fix that?
Easy - you use our newly launched, super cool Vybe mini fridge or as well like to call it - the mini beauty fridge, that has been designed specially for your favorite makeup, skincare and hair-care products products!
This mini fridge may be tiny, but it packs in a punch. Available in two sizes - 4l and 6l - it's the perfect size to store all your makeup essentials and even carry them around. Yes, the Vybe mini fridge is portable and super easy to carry around. You can even carry it with you in your car if you go on a long drive, so that your makeup and skincare products stay cool while you enjoy the outdoors!
Mini refrigerators are not a luxury - they are a necessity in India if you want your favorite lipsticks, face masks and moisturizers to last more than one season. Traditionally mini fridges or mini refrigerators have been associated with storing beverages and snacks, most notably in hotel rooms. But these portable coolers are now becoming popular for storing makeup too. 
The Vybe mini fridge is compact and portable, designed specially for storing and carrying your delicate serums, moisturizers, creams, sunscreens, toners, eye makeup, nail paints and everything else that you just can't leave home without. 
It is small enough to be a permanent addition to your bedroom and super convenient to carry along on a trip. Plus, it comes in delightful and soothing shades of pink, white, green and a gorgeous marble-coloured look. Stylish, sleek, pretty and compact - the Vybe mini fridge is a must-have for all fashionistas!
Bonus - the Vybe mini refrigerator is not just for makeup. It can also be used for storing and carrying medicines and small bottles of beverages. So it's a useful addition for the entire family which keeps your products fresh and cool, and makes them last long. 
And did we mention that the Vybe mini fridge has a very wide range of temperatures to offer? From 5 degrees to 60 degrees Celsius, this little champion can offer cooling as well as heating to suit your specific needs. The built-in temperature protection will ensure that the products are never frozen or spoilt. You can even pre-cool the Vybe mini fridge before you start storing your products for maximum impact. 
Featuring thermoelectric cooling technology, this mini refrigerator  comes with AC and DC cords, and a built in DC to AC converter, for convenient use anywhere, anytime. 
So what are you waiting for? Show some love to your favorite makeup and skincare products by getting the Vybe mini refrigerator today so your products are always fresh, cool and gentle on your skin.